Coastguardsman Recalls Storms at Bass Harbor Head Light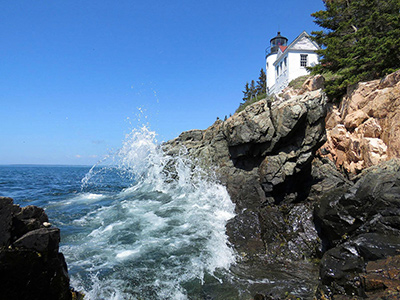 The picturesque Bass Harbor Head Lighthouse, located along the southwestern side of Mount Desert Island in the village of Bass Harbor, exudes a feeling of serenity – presiding over a seascape of pure splendor.
The elevated and rock-solid appearance of this lighthouse does not readily stir the imagination with feelings of stormy dangers. Unlike Maine's wave-swept lighthouses, the 162-year history of Bass Harbor Head is not peppered with stories of harrowing gales and shipwrecks, but that does not mean storms have not left an indelible mark on those who have called this place home.
Following the automation of Bass Harbor Head Lighthouse in 1974, the keeper's house was later utilized as housing for a Coastguardsman and their family until 2014.
One Coastie who lived at the lighthouse was retired Chief Electrician's Mate (EMC) Joseph Hevner who was serving at the time as an EM1 at U.S. Coast Guard Aids to Navigation Team Southwest Harbor.
In 2016, EMC Hevner recalled, "I've slept there in many storms. Some of the storms were so powerful that when the waves strike the rocks below, it shook the entire house."
EMC Hevner went on to note, "The tower was prone to many lightning strikes and that would actually shut off the light in the lantern. I would have to climb the tower to reset the lamp. The tower is so close to the master bedroom window that when lightning would hit the tower, it sounded like someone smashing a trash can with a large hammer."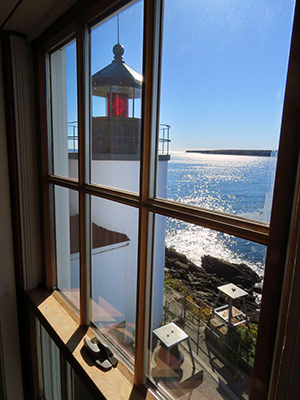 In his classic 1891 book, The Pine Tree Coast, Samuel Adams Drake described the sentinel at Bass Harbor Head as, "a squat little lighthouse, in white cassock and black cap, sits demurely looking off to sea." Such an idyllic description is quite accurate, but on occasion, storms have rocked this notion to its core. For those who have resided at the lighthouse, the experience is unforgettable.
Bass Harbor Head Light's red occulting flash every four seconds continues to guide mariners, marking the entrance to Bass Harbor and Blue Hill Bay. The light – a fourth order Fresnel lens with a 1,000-watt lamp, is maintained by U.S. Coast Guard Aids to Navigation Team, Southwest Harbor. The historic light station is owned by the National Park Service.