Winter Storm Elliott – One to Remember
Winter Storm Elliott brought high winds and big seas to the Maine coast on December 23, 2022. The storm's impact was enhanced by astronomical high tides that day, along with two to three foot storm surge. The following are my thoughts as I watched the storm inundate the Rockland Breakwater at high tide that day…
A breakwater strong, a breakwater resolved, serves as a robust line of demarcation amidst waters untamed. This granite bastion affords refuge from the gale; giving no quarter in its epic encounters with a sea unhinged. Still, the calendar of days gone by mark boldly the occasions when the surge of the deep has engulfed this superlative aim.
Such assaults may ride out of the north or out the south, but these approaches are always emboldened by winds brandishing an easterly whip of stern influence. Upon the bleary horizon, brine and clouds hold hands as one.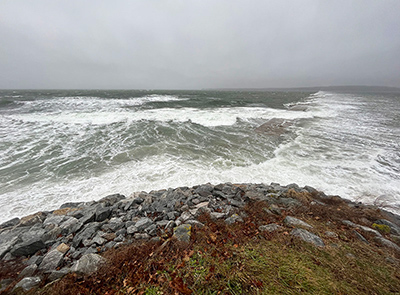 Galloping out in front of the zephyr are sculpted seas with a countenance mean, green and frothy. Rising and plunging. Crashing and smashing. Reaching and breaching. Invariably, mountainous waves or inundating swells confront the sturdy convictions of the breakwater with thunderous fury. This battleground exhibits an astounding show of force where uncompromising wills collide – wave upon wave.
A lighthouse in the wild stands an age-old watch at a point where the breakwater's rock armor ends and the depths of the bounding main arise unchallenged. Amidst the pandemonium, a storm-battered sentry is ever-defiant. When the shroud of darkness descends upon the riveting turmoil, a guiding light – bright and faithful, shines forth from ground zero. Shine on you beloved guardian of the coast. May your goodwill come back around and keep you strong.