Storm Wreaked Havoc on Maine Lighthouses
A late-winter storm caused major damage at a number of Maine lighthouses up and down the coast on March 2 and 3, 1947. At offshore lights like Saddleback Ledge, keepers no doubt were concerned for the well-being of their station buildings during the tempest…and possibly even for their own safety as well.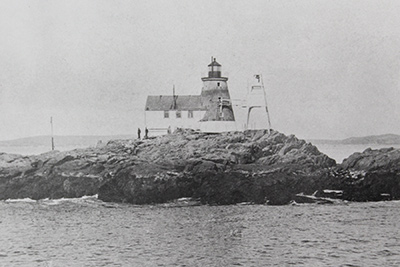 The March 1947 issue of the Maine Coast Fisherman contained a news recap of the storm damage…
"Lieutenant John Joseph, section Coast Guard officer for the area between the St. Croix River and Pemaquid Point reported heavy damage to Coast Guard establishments offshore in his entire area in the storm of March 2.
"Saddleback Ledge Light Station lost its bell tower, bell and bell operating mechanism as heavy seas swept over the unprotected spot all night. The plaster of the walls and ceilings of the main structure were cracked and knocked down by the force of the seas striking the outside of the house. The covered passageway between the house and the light tower was moved by the force of the water and nearly washed away. Loss at the station is estimated to be near the five thousand dollar mark.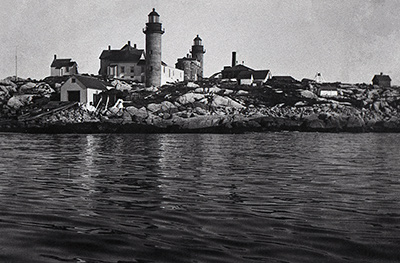 "Matinicus Rock Light Station suffered one thousand dollar losses when its oil house disappeared into the sea and damage was done to the buildings and the drinking water cistern filled with salt water.
"Keepers on Two Bush Light are still busy rolling back into the sea the boulders tossed up by the storm; some of which weighed as much as 70 pounds. Chief Boatswain's Mate Herman Carr and his assistants thought at one time they were being bombarded as the huge stones bounded ashore.
"Down East stations, according to Joseph, suffered varying losses, the total of which will amount to several thousand dollars."