A Sense of Place at Rockland Breakwater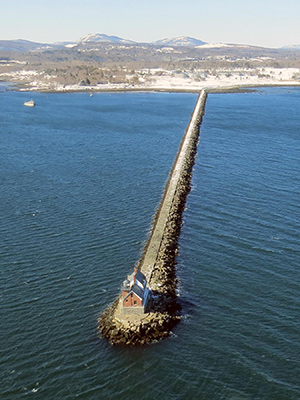 Journey up and down the Maine coast for any length of time and you will discover there is no place quite like Rockland Harbor. This important harbor is as authentic as its people – hardworking, diverse and brimming with rich heritage and cultural charm.
The most recognizable and beloved characteristic of Rockland Harbor may very well be the nearly mile-long granite arm of protection that stretches northwest from Jameson Point to southeast into the outer harbor known as the Rockland Breakwater.
No other seascape in Maine is comparable. Whether you walk the Rockland Breakwater, admire it from land or sail by it in and out of port, its impressive nature speaks to a true sense of place.
On the eastern side of the breakwater is the sparkling Penobscot Bay and delightful island views. Along the western side is the protected waters of Rockland Harbor and the tradition-laden City of Rockland that hugs the shoreline at the head of the harbor.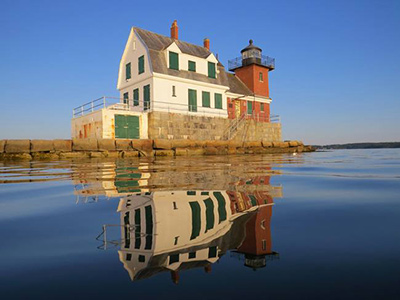 Of course, standing watch over Rockland Harbor is the venerable Rockland Breakwater Lighthouse. This historic sentinel is as unique as the breakwater it presides upon. A brick light tower and engine room are seamlessly incorporated into a wooden keeper's house and boathouse. Put it all together and you have a one-of-a-kind lighthouse in Maine – and a long-welcoming sight for mariners and boaters alike.
But the bay and harbor only begin to tell a story that must be experienced up close and in-person as you absorb the sweet smells and alluring sights of the sea. For the undeniable sense of place that embodies the Rockland Breakwater is not confined to its distinctive physical appearance or beautiful location. The sum of all "speaks" to the heart in a silent but unmistakable language that is as much felt through the stirring of emotions as the sounds of the sea are discerned by the ear.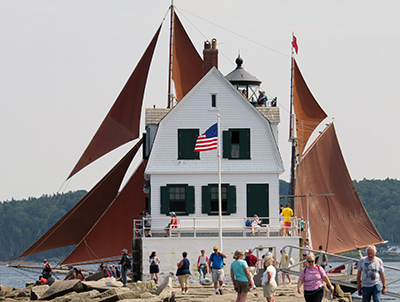 A walk along the Rockland Breakwater is really a chance to go to sea without ever leaving land.
Along the way, a plethora of fascinating sights is to be enjoyed. From hardy lobster boats working their nearby traps to elegant windjammers gliding by with effortless grace, and stout tugs pulling equipment/cargo-laden barges to Coast Guard cutters and boats that protect and inspire great pride, the heartbeat of Rockland Harbor is truly alive and well.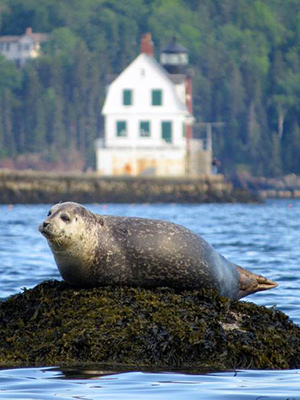 And then there is nature! On any given day, you can be treated to endearing scenes of harbor seals resting upon half-tide rocks, as well as an array of shorebirds and waterfowl that make the breakwater a brief stopover along their flights.
If you like to rise and shine early, then you will want to stroll out to the breakwater at sunrise to see dawn's majesty ascend over the sparkling bay. By evening, a perch on the breakwater offers up stunning sunset views accented by splashes of color across an evening sky.
Rockland Breakwater – an unforgettable sojourn like no other!