Portland Head Light's Christmas Wreath
As Maine's oldest sentinel, the 1791 Portland Head Light has presided over much in the way of history. Marking the entrance to Portland Harbor, the venerable beacon has stood a faithful watch during two-plus centuries of storms, fog and the dark of night – saving an untold number of lives and a plethora of cargo throughout its service to the mariner.
The lighthouse has also sent out its guiding beams on each and every holiday – its keepers never taking a night off regardless of how festive or celebratory the occasion might have been according to the calendar.
Such dedication may not have stood out at the time as something special, but in December 2009, Portland Head Light forged a new chapter in its storied history – holiday style, thanks to a community partnership between the Town of Cape Elizabeth, Maine, and the United States Coast Guard.
At the time, an anonymous donor provided The Museum at Portland Head Light with a festive lighted wreath, which the Coast Guard graciously agreed to install on the lighthouse. The wreath sported energy efficient LED (light emitting diodes) lights and was officially unveiled to the public during a ceremony at the lighthouse on December 11, 2009.
In advance of the unveiling, a U.S. Coast Guard press release stated that the event "marks the first of its kind for the famous Maine lighthouse and stems from a widespread tradition in which many Coast Guard units around the country join their local communities to decorate lighthouses for the holidays."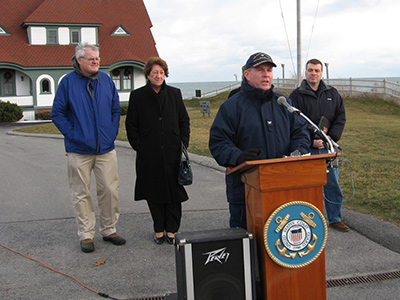 Captain James B. McPherson, then Commanding Officer of Coast Guard Sector Northern New England, was joined at the podium in front of the lighthouse by other dignitaries, including Cheryl Leeman, regional representative for U.S. Senator Olympia Snowe, Jennifer Duddy, state office representative for U.S. Senator Susan Collins, James Rowe, chairman of the Cape Elizabeth Town Council, and the author.
"I want to thank the Coast Guard and the Portland Head Light Museum for the opportunity to display the wreath for the community to enjoy during the holidays," said James Rowe.
"We are happy to participate in this event with the Coast Guard," Jeanne Gross, the director of the Portland Head Light Museum, added. "For years, we have thought a wreath would look wonderful on the tower at Portland Head and this year we will actually see one. Thank you to our donor who has made this project possible."
The wreath itself may have been comprised of greens wrapped in lights, but symbolically, there seemed to be so much more to it than that. Its circular design exemplified sense of unity within the community. At Christmastime, this unifying spirit takes on an extra special meaning in our hearts.
Speaking of community, the United States Coast Guard, more than any other military service, is an integral part of our coastal communities, and not just with its mission- based services. The men and women of the Coast Guard go out of their way to contribute in a tangible way to a local community's fabric, helping make where we live, work and play a better place.
This type of community partnership effort was on full display at Portland Head Light that historic day, but the effort also shed light on the importance of deep-rooted seafaring traditions in Maine.
"The wreath provided an opportunity to remind the local community and Coast Guard personnel that we have a wonderful maritime heritage to celebrate," said Captain James B. McPherson. "Our predecessors, which includes proud organizations like the U.S. Lighthouse Service and the U.S. Life-Saving Service, have been on duty in Maine since 1791. That really is a marvelous heritage."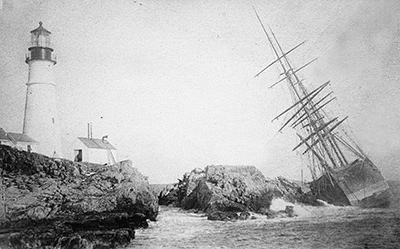 During his remarks, Captain McPherson shined a light on an aspect of this rich history by recounting a famous shipwreck and rescue at Portland Head Lighthouse, which occurred in 1886 on a night that lightkeeper Joshua Strout described as so bad, "Even Santa Claus was afraid to be out."
"The Christmas wreath has also provided the background to remind everyone that on Christmas Eve in 1886, the lighthouse keeper and his family saved 18 crewmembers from the frigid weather and high seas when the British bark Annie C. Maguire ran aground at Portland Head Light," said Captain McPherson.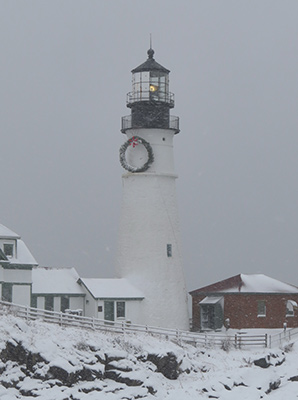 Captain McPherson concluded, saying, "Coast Guard men and women, and our predecessors, have stood the watch faithfully in Maine since 1791. Keeper Strout and his family stood the watch on Christmas Eve in 1886 – and on this holiday season in 2009, 87 Coast Guard personnel from Sector Northern New England will be standing the watch at eight (8) search & rescue stations, aboard eight (8) Coast Guard cutters, and in the rescue command center."
Today in 2020, a wreath continues to adorn the majestic Portland Head Light during the holiday season, and the United States Coast Guard remains true to its motto – Semper Paratus…always ready. Both are shining traditions that enrich our lives and leave us with much to be thankful for.