Petit Manan's Puffin Colony is a "Tern-Key" Success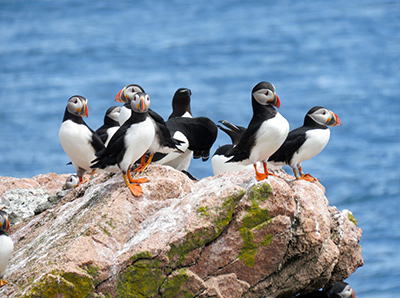 All seabirds have a certain beauty and charm – and all are worthy of efforts to respect and protect them, but one – the puffin, may very well be considered the most adorable of the marine bird species.
The general public's fascination with puffins is unquestioned. The mere sighting of one or more during sight-seeing cruises instantly spawns unbridled excitement and joy among passengers. And when one can view puffins and lighthouses together – well, for many, it simply doesn't get any better than this.
Today, the Atlantic puffin can be found at two Maine light stations – Matinicus Rock and Petit Manan, during the nesting season that goes from April to August each year.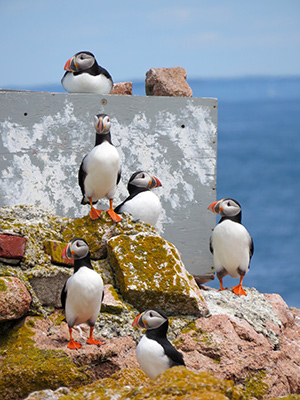 Did you know that puffins "taking up residence" at the 16-acre Petit Manan Island is relatively new – and is a direct connection to the effectiveness of the seabird colony restoration / management efforts led by the U.S. Fish & Wildlife Service?
In speaking about the success of the revolutionary Project Puffin program in Maine, co-authors Stephen W. Kress and Derrick Z. Jackson stated in their wonderful 2015 book, entitled, Project Puffin, "The resurgence of Maine puffins has led to other new puffin and tern colonies. Notable is Petit Manan near Bar Harbor, part of the Maine Coastal Islands National Wildlife Refuge."
So, how did puffins come to call Petit Manan a nesting home? Well, the answer seems to be closely tied to the return of Arctic and common terns to the island.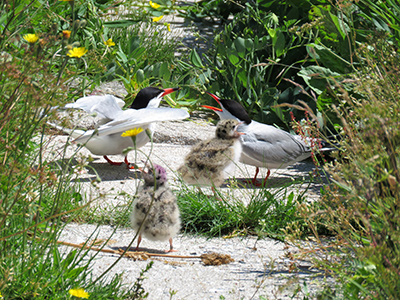 As late as 1970, there were around fifteen hundred nesting terns on Petit Manan Island. The birds thrived on the island in part due to the presence of lighthouse keepers who had long been an asset with helping protect a variety of seabirds by minimizing the adverse impact of potential predators (animals, birds and humans).
However, this all changed in 1972 when the U.S. Coast Guard removed Petit Manan's resident keepers. The automation of the lighthouse not only removed the keeper's watchfulness over mariners at sea, it created another unintended consequence – the loss of protection for the terns against predators.
When the keepers departed, the black-backed and herring gulls moved in with force. Their destructive presence was so great that by the early 1980s, there were no nesting terns left on Petit Manan Island.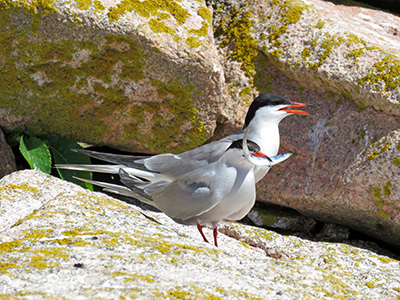 The tide turned back in favor of the displaced Arctic and common tern on Petit Manan Island, in mid-May 1984. A team effort between U.S. Fish & Wildlife Service and the College of the Atlantic in Bar Harbor initiated a much-needed program that simultaneously controlled the gull population, while cultivating the restoration of the tern colony.
The fruits of this noble effort were nearly immediate. In just one week the terns returned to Petit Manan. But the excitement did not end with the return of the seabirds. Six weeks later, by the end of June 1984, the island hosted an incredible 855 tern nests.
The rightful return of the terns to Petit Manan is a story nothing short of amazing, but how does it connect to Atlantic puffins who appear to have never nested on the island in the past?
Stephen W. Kress and Derrick Z. Jackson answer this question in Project Puffin, stating, "In the case of Petit Manan, that garden was so well 'weeded' that puffins, of which there was no prior record of breeding, began landing on the island in 1984, likely because the presence of terns suggested that it would be a safe zone from gulls."
Kress and Jackson went on to note, "Although there were few rock crevices for natural nesting burrows, a few pairs began nesting in 1986. The first banded native puffin chicks from Petit Manan began returning in 1994 and began breeding in 1996. The colony increased to seventy-three breeding pairs in 2014, with high counts of almost two hundred puffins."
"Those seventy-three pairs helped push Maine over the one-thousand-puffin-pair mark on four islands, ten times the number that resided solely on Matinicus Rock in the early 1970s," said Kress and Jackson.
Pairs of nesting puffins on Petit Manan can range from the low sixties to a record high of 104 pairs, which occurred in 2009. The fluctuation is due in part to burrows being destroyed by storms during any given year.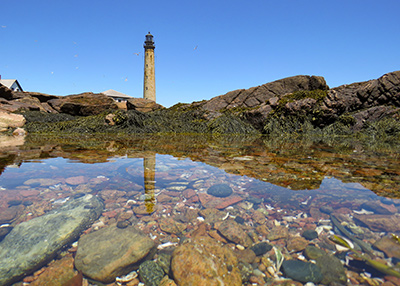 In addition to Atlantic puffins and Arctic and common terns, Petit Manan Island is also home to nesting razorbills, black guillemots, common murre, Leach's storm-petrels, laughing gulls, and common eiders.
Petit Manan Island is one of the crown jewels of the Maine Coastal Islands National Wildlife Refuges. According to the U.S. Fish & Wildlife Service, "The Maine Coastal Islands National Wildlife Refuges span over 200 miles of Maine coastline and contain 49 offshore islands and four coastal parcels, totaling more than 8,000 acres. The refuge complex includes five national wildlife refuges –– Petit Manan, Cross Island, Franklin Island, Seal Island, and Pond Island. The U.S. Fish and Wildlife Service manages the refuge complex as part of the National Wildlife Refuge System."
And if this wasn't enough, did you know that the lighthouse preservation efforts of the U.S Fish & Wildlife Service (USFWS) in Maine are exemplary? USFWS not only integrates the historic light station structures into their programs, they care for them in fine fashion too.
Without USFWS's commitment and dedication to lighthouse preservation, much of our lighthouse heritage on these remote islands would be endangered or already lost.
Lighthouse enthusiasts could not ask for anything more.
And of course, the restoration and management of seabird colonies at sites like Petit Manan and Matinicus Rock is the brightest "light" of all – and also in keeping with the history of these island stations where seabirds and the lights share an intertwined heritage that we are thankfully able to admire and cherish today! To learn more about these efforts, visit
www.fws.gov/refuge/maine_coastal_islands/
https://projectpuffin.audubon.org/
---
This story originally appeared in the October 2019 edition of Maine Lights Today magazine.