Old Man Winter Rides in Out of the North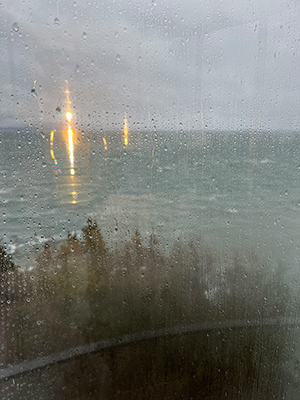 From out of the north did an old friend come a-calling today at Owls Head Light. Little has been heard of Old Man Winter this season, though the calendar emphatically points to this as the time when the air should be frigid and blankets of white layered about.
The boreal, though quite familiar, was hardly burning cold. As I walked up from the keeper's house to Owls Head Light, the starkness of this visitation was less about its icy countenance and more about its dearth at a time when winter's frosty fingerprints should be encumbering all things.
Still, the zephyr was shouldering a noticeable chill as white caps galloped out in front of its charge. The northerly drafts were also speaking of a gale soon to stir upon Penobscot Bay. As I climbed the tower's iron staircase to the lantern above, I could not help but wonder whether this winter howl was more bluster than bite, or was the agitated scene unfolding in front of me an indication of more polar times ahead. The answer to my silent query remained elusive.
That said, word has it that some snow will ride in on this looming gale – and wind chills will plummet to more seasonable depths. After checking on the lamp aglow inside the Fresnel lens, I moved towards the panes of glass and peered out through an accumulation of condensation on the interior surface and raindrops running along the exterior.
Seas were beginning to build, though the north wind had not yet whipped them into a full frenzy. I scanned the seascape from west to south – and save a ferry running for the islands some ten miles distant, no vessel or boat was to be seen upon the bumpy waters of the bay.
Scant transits upon the bay matter not to the venerable guardian at Owls Head. Its guiding beam, embraced by polished prisms and brass of yore, reflected warmly along each lantern pane. At sea, its radiant visage smiled across the bounding main to the islands and beyond. I departed the lantern assured that should a light be needed in the gale, a light was steadfastly shining forth.