Moose Peak – A 2019 Lighthouse Highlight
2019 is quickly coming to a close – and what a year it has been for Maine's lighthouses!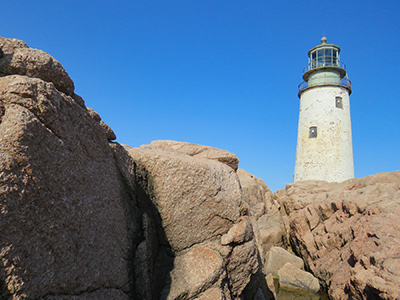 Inspiring restoration and maintenance work was carried out at lights such as Burnt Coat Harbor, Cape Neddick, Little River and Squirrel Point. Seabirds continued to flourish at Great Duck, Matinicus Rock and Petit Manan lights thanks to the efforts of the U.S. Fish & Wildlife Service, the National Audubon Society and the College of the Atlantic, while important whale studies at Mount Desert Rock and diverse educational programs at Whitehead Light were in full swing once again.
And let's not forget visiting lighthouses! Great tour seasons occurred at lights like Goat Island, Owls Head, Pemaquid Point, West Quoddy Head and Wood Island. The public not only enjoyed climbing the towers, they walked away learning more about our rich lighthouse heritage and a bit of what it takes to preserve these historic beacons.
That said, quite possibly the biggest lighthouse highlight each year is Maine Open Lighthouse Day – and 2019 did not disappoint. The weather was not on its best behavior, but that did not stop event participants from thoroughly enjoying visits at two dozen sentinels up and down the coast.
In looking back at 2019, there were significant funds invested at the lights, countless volunteer hours devoted to planning, fundraising, maintenance work and educational programs, and many thousands were given the opportunity to "walk in the steps of the bygone keepers."
Such incredible success is truly heartwarming, yet, there is one lighthouse – Moose Peak on Mistake Island (some five miles southeast of Jonesport), who enjoyed very little of these benefits, and still may be the biggest Maine lighthouse story of 2019. And if not the biggest, certainly the most intriguing.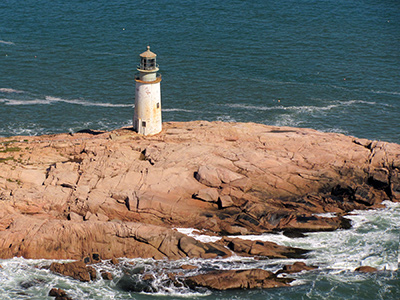 Moose Peak's private owners took the first steps towards raising vital awareness for this relatively obscure lighthouse – and though these initial steps were modest in nature, history may one day bear witness to the fact that no effort in the storied history of the beacon was more important than the steps taken in 2019.
For the future well-being of Moose Peak Lighthouse will now rest on this foundation that is being forged by its new owners, Jeremey Richardson and Miriam Davidson – two individuals who care deeply about restoring and preserving the 57-foot lighthouse.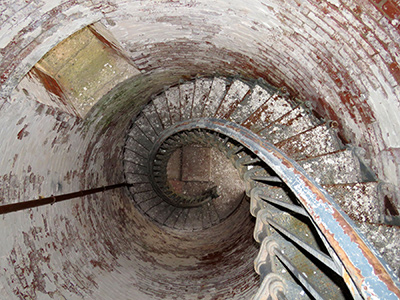 The 1851 lighthouse needs much in the way of tender loving care. The tower's brickwork is cracked top to bottom, salt air has taken a toll on its cast-iron components and unwanted water intrusion is occurring throughout the structure. The time to act is now – and that's exactly what Jeremey and Miriam are doing.
In its hour of need, Moose Peak Lighthouse could not have more passionate and dedicated "keepers." All successful efforts are only as good as the talented and committed people steering the project. Given this fact, it would appear that Moose Peak is in very good hands.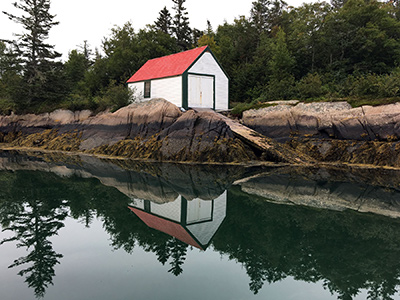 However, before funds can be raised for Moose Peak's eventual restoration, planning and public awareness are crucial to the effort. To this end, the light's owners have been working hard behind the scenes on a stabilization plan for the lighthouse.
As for the public awareness aspect, an exciting "door into the future" swung wide open during the 2019 Maine Open Lighthouse Day event, when Jeremey and Miriam welcomed the first public visitors to the island. In doing so, a new chapter in the history of Moose Peak Lighthouse was written.
"Participating in its first Maine Open Lighthouse Day, Mistake Island welcomed 20 adventurous visitors to tour Moose Peak Lighthouse on September 14th, 2019," said Jeremey Richardson and Miriam Davidson. "Participants left the Jonesport Municipal Marina in boats driven by volunteer Jonesport residents. The boats traversed five miles of choppy seas to get to the island. Upon meandering down the 1/4 mile wooden boardwalk, visitors arrived at Moose Peak Light with the tower and surrounding grounds open to explore."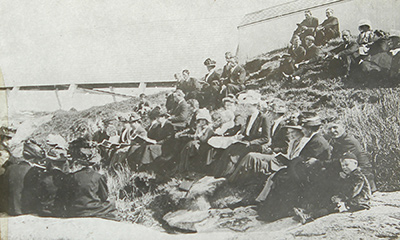 The light's owners went on to say, "Historical facts were shared throughout the event and the current need for preservation and restoration was discussed. Additionally, the future vision of Moose Peak Lighthouse having increased community access and support was emphasized. The event's overcast and windy weather did not disappoint, rather, it gave participants an authentic Mistake Island experience that hopefully only helped to solidify the importance of saving such a rugged and treasured part of Maine's maritime history."
This may have been the first time that Moose Peak Lighthouse was a part of Maine Open Lighthouse Day, but it certainly will not be its last. In addition to this event, Moose Peak's owners are looking to have their lighthouse be a part of other lighthouse and community events in the future as well.
By welcoming the general public to Mistake Island for tours of Moose Peak Light, visitors can see and learn firsthand of the beacon's plight – and have ample opportunity to help make a real difference with its restoration through much needed donations.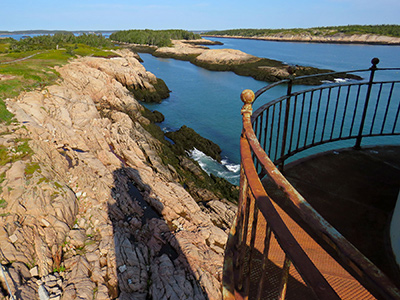 Michelle Shaw, a dedicated lighthouse volunteer at Portsmouth Harbor Lighthouse, was one of the fortunate people who had a chance to visit Moose Peak Light during Maine Open Lighthouse Day. Michelle was totally delighted with the experience, saying, "The lighthouse was beautiful and the island was amazing. Miriam and Jeremey were so welcoming and friendly to us, and they seemed truly happy to have us there. They are such nice people. Miriam and Jeremey have some incredible plans for the island that I hope they are able to accomplish. I am looking forward to going back there next season!"
The year 2019 is drawing to a close, but not before the "curtain" has gone up on the inspiring effort to restore Moose Peak Lighthouse to its former glory. The journey will be a long and winding one, but when the goal is realized, the groundwork laid during the year 2019 will have proven to be a lifesaver for this historic sentinel. Hats off to Jeremey Richardson and Miriam Davidson – thank you for "keeping the flame" at Moose Peak Lighthouse!