Many Reasons to Love Maine's Lighthouses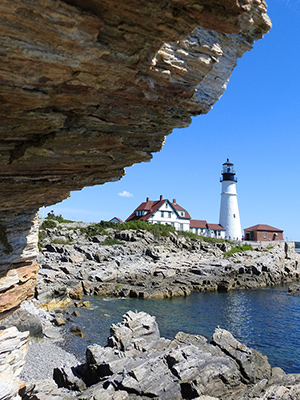 The majestic sentinels of the Maine coast, some of the most beautiful and storied in the nation, transcend time as they continue to stand "watch" over the state's rocky shorelines, remote islands and wave-swept ledges.
Their guiding beams shine forth over darkened seascapes each and every night – pointing the way to safe passage for modern day mariners who work or traverse the shoal-laden waters of Maine.
And though ongoing advances in the field of electronic navigation systems have diminished the importance of lighthouses as vital navigational aids, many mariners still seek out their reassuring gleams. In all, there are 55 active beacons (Federal) and 36 fog horns at Maine lighthouses, which are maintained by the U.S. Coast Guard.
For all their functional use, lighthouses are much more than aids to navigation. To the landlubber, they are stately edifices that beckon us to come near and bask in a one-of-a-kind aura.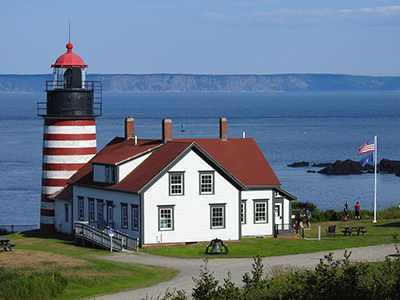 Holding more than the secrets of the sea within their walls, Maine's lighthouses possess a fascinating ability to speak to us today in a silent but unmistakable language that stirs our emotions and imaginations in a most profound manner.
Their mere presence points to a higher, benevolent purpose – one that is embraced by romance, mystery, drama, isolation, dedication and heroism. Ask a hundred people what lighthouses mean to them, and it is very likely one will discover the meanings are as diverse as the people they touch.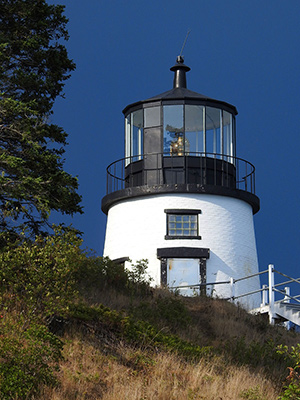 When visiting the lighthouses of Maine, one not only learns of their time-honored heritage, but also how lighthouses continue to inspire present-day individuals in the arts, poetry, music and more. Still others are compelled to lend a helping hand to the preservation of these beacons that are so intricately linked to our seafaring past.
So as you visit the lighthouses of Maine, be sure to retrace the steps of the keepers and their families through the footprints of time – all the while admiring the breathtaking beauty that stretches out around them as far as the eye can see. As popular author Bill Caldwell noted in his 1981 book, Islands of Maine, "Behind every lighthouse along the coast there is a story."
Thankfully, Maine's lighthouses are still making history – may this "light" never be extinguished along the coast or in our hearts!