Lighthouses, Coastal Beauty and the U.S. Coast Guard will Gleam on Maine Open Lighthouse Day
Do you love Maine's lighthouses? If so, then Maine Open Lighthouse Day is the event for YOU!
On Saturday, September 10, 2022, the "stars" of Maine Open Lighthouse Day will be the majestic beacons that grace the Pine Tree State's rocky coastline from Downeast to southern Maine. While enjoying the lighthouses up close and personal, be sure to immerse yourself in the other rewarding aspects that this event helps shine a light upon – cool stuff for families and adventurists alike.
During Maine Open Lighthouse Day this year, eighteen lighthouses – many rarely open for tours, will welcome visitors to step inside and experience these ageless sentinels in a fascinating way. Learn about why lighthouses were built, who kept their lights burning, the communities that thrived beneath their beams and why it is so important we preserve these one-of-a-kind historic sites today.
"Public access is a central component of the effort to preserve our historic lighthouses," says Jeremy D'Entremont, President of the American Lighthouse Foundation. "By opening lighthouses so that people can experience them first hand, we hope to foster a deeper appreciation for these historic structures."
Of course, you will have the amazing opportunity to climb to the top of the lights and admire stunning panoramic views of the coastline and the natural environments that embrace them. The entire experience uniquely connects Maine's alluring coastal fabric, which helps make the state such a great place to live, work and visit.
You will also learn about the United States Coast Guard's proud heritage as keepers of the lights and guardians of our coastline. The Coast Guard, which assumed responsibility for our nation's lighthouses and other aids to navigation in 1939, still maintains 55 beacons and 36 fog horns at Maine lighthouses.
Often distant from the public eye – and at places where fanfare does not tread, there is a great amount of skilled work and altruistic service that occurs at the lights thanks to the quiet vigilance of the United States Coast Guard. Maine Open Lighthouse Day is not only a chance to recognize the Coast Guard's important work at the lights, but to say "thank you" as well. For lighthouses still matter! The maritime and lighthouse communities are very grateful for the Coast Guard's dedicated service at the lights and with the vast network of other navigational aids.
One would be hard pressed to find another event throughout the state quite like Maine Open Lighthouse Day that involves such a large geographic area. From Lubec to Kennebunkport, residents and tourists alike will enjoy visiting the open lighthouses and taking in the very best Maine's coastal communities have to offer!
Each visitor has a chance to add their own "shine" to Maine Open Lighthouse Day by celebrating lighthouses, the Coast Guard and the state's coastal charm, culture and offerings in a uniquely personal fashion. Be sure to max-out your "fun meter!"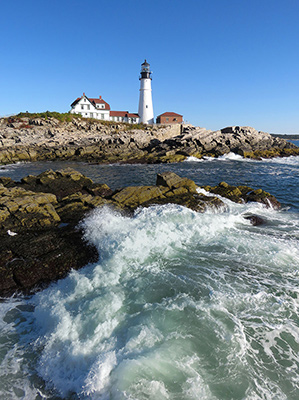 Ross Holland Jr., the dean of American lighthouse historians, once said, "Americans love lighthouses. Artists and photographers find them picturesque. The dreamer finds them romantic. The boaters find them comforting. The navigator finds them helpful. The shore walker finds them peaceful. The historic preservationist feels they make a statement about a period of time. The historian is fascinated with the human and technological story they embody. And the idealist is drawn to them because they symbolize man's humanity to man. Americans truly like and respect their historic structures, but it seems to me there's a special place in their hearts they reserve for lighthouses."
Maine Open Lighthouse Day, which debuted in September 2009, is sponsored by the U.S. Coast Guard (Sector Northern New England), Maine Office of Tourism and the American Lighthouse Foundation. For more information on Maine Open Lighthouse Day, visit: lighthousefoundation.org/maine-open-lighthouse-day/