Lad Keeps Light Burning at Saddleback Ledge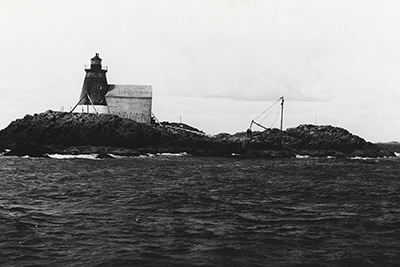 The following excerpt is from the feature entitled, "From Light to Light: A Cruise of the Armeria, Supply-Ship" by author Kirk Munroe, which appeared in the October 1896 issue of Scribner's Magazine. In the year 1896, the Armeria supplied over 300 New England lighthouses. The author indicates the account was passed down by the keepers of Saddleback Ledge Lighthouse, and therefore would have had to occur sometime between the light's construction in 1839 and the account being recorded in 1896.
"Saddleback Ledge, as seen last summer, was a bare rock absolutely devoid of vegetation, save for three sickly pea-vines, two hills of potatoes, and a dozen spears of oats, which, with a longing to look upon something green, the keeper had coaxed into life in his trash heap, though with certain knowledge that the first heavy gale would sweep them away.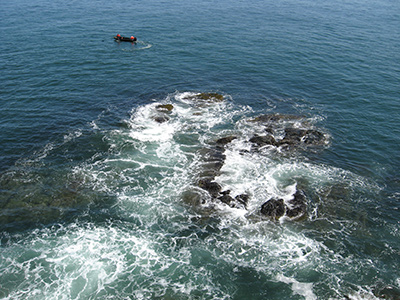 "At this station the rocks rise so abruptly, and the break of the sea upon them is so constant, that an anchor is dropped over the stern of the freight-boat, a line from her bow is made fast ashore by the light-keepers, and, as she lies thus, moored in tossing white waters, within a few feet of the sullen coast, her cargo is transferred to the Ledge by means of a stout iron derrick, securely planted in the solid rock high above her.
"This is one of the wildest and bleakest of light stations of that savage region, and, according to a story told there, it was once the scene of a remarkably plucky adherence to duty on the part of a 15-year-old boy.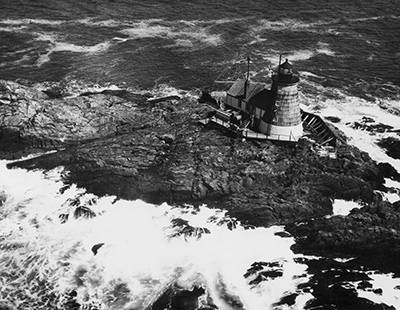 "He was the son of the keeper, and on this occasion, was left alone in the tower while his father went ashore for provisions in their only boat. Before the latter could return a violent storm arose, and for the next three weeks there was no time in which the keeper's boat could have lived for a moment in the wild seas that raged about the lonely rock.
"Still the light was kept burning by that 15-year-old boy, who had little to eat and but scant time to sleep. Night after night, for three weeks, its steady gleam shone through the blackness of the pitiless storm and gladdened the father's straining eyes.
"When the ordeal was ended the boy was so weak from exhaustion, as to be barely able to speak. At the same time there was no prouder father nor happier young lightkeeper on the Maine coast than those who met on the storm-swept ledge of Saddleback that day."