Just Wow – 19 Maine Lighthouses in One Day!
When it comes to seeing a bunch of Maine lighthouses by boat, no one shows you more in one day than the Bar Harbor Whale Watch Company. And not just lighthouses, but fascinating marine life, seabirds, coastal curiosities and majestic Acadia National Park too.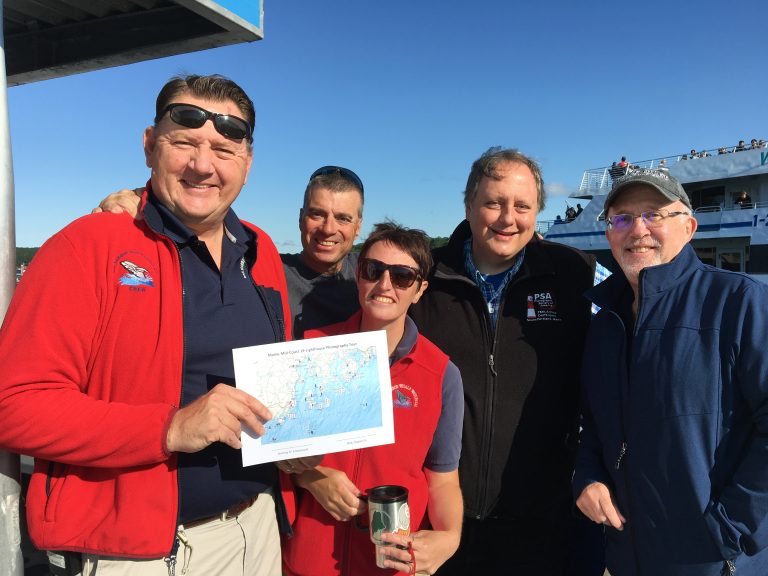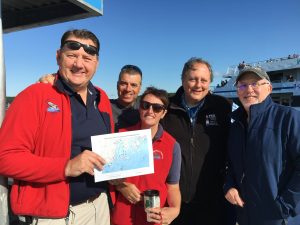 The naturalists aboard the Bar Harbor Whale Watch M/V Friendship V are top-notch and have a lot of fun pointing out delightful sightings of whales, seals, ocean sunfish, eagles, and a variety of seabirds that "cross the path" of the cruise.
However, the lights are no doubt the "stars of the show" during one of these special Bar Harbor Whale Watch lighthouse excursions.
On August 24, 2019, the M/V Friendship V transported passengers to lighthouses in Frenchman Bay, Blue Hill Bay and Penobscot Bay – providing gorgeous views of an amazing 19 lights in all. Yes, 19 lighthouses in one day! The Friendship V, a state-of-the-art 112-foot, jet-powered catamaran, covered a remarkable 180 miles during this one-of-a-kind tour.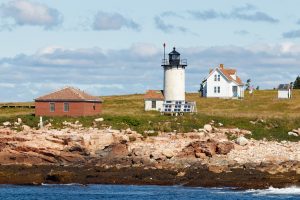 The cruise was Bar Harbor Whale Watch's "2019 Midcoast Maine 19 Lighthouse Photography Tour – and what grand theater it proved to be!
Passengers were treated to great views and had ample time to thoroughly photograph an extensive list of lighthouses that included: Egg Rock, Baker Island, Great Duck, Bear Island, Bass Harbor Head, Burnt Coat Harbor, Blue Hill Bay, Isle au Haut, Saddleback Ledge, Heron Neck, Two Bush, Whitehead, Owls Head, Rockland Breakwater, Indian Island, Curtis Island, Grindle Point, Dice Head and Pumpkin Island.
Noted lighthouse author and historian Jeremy D'Entremont served as one of the lighthouse tour guides and did a superb job recounting historical accounts dipped in romance, heroism, intrigue, hardship – and even the occasional touch of melancholy. D'Entremont also took time sign a number of his lighthouse books, which were available for purchase during the cruise.
And since this was a lighthouse photography cruise, it was only fitting that Bar Harbor Whale Watch made sure they had a photography expert onboard. Michael Leonard of Photo Tourism by Mike freely shared his vast expertise and timely tips with those seeking to take the best photos possible during the cruise.
Of course, seeing so many lighthouses in one day can sure rack up an appetite, but there were no worries on this front either. Bar Harbor Whale Watch had the food part covered too – providing a catered lunch consisting of tasty deli sandwiches, clam chowder, chips, cookies, fruit and coffee and soda. No one walked away hungry!
The superlatives offered up by passengers in the wake of the cruise were very complimentary of Bar Harbor Whale Watch and the cruise in general. It was easy to see that this tour was going to be a memory that lasted a lifetime for all those onboard. Top of the line all the way!
To learn more about the lighthouse cruises offered by Bar Harbor Whale Watching, visit: www.barharborwhales.com