Dedication and Tradition Still Shine Bright at the Lights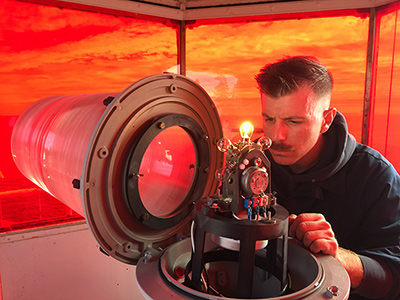 Thirty years have passed since the last lighthouse keeper stood watch at a Maine lighthouse. When Coast Guard keeper Bradley Culp "turned out the light" for the final time at Goat Island Lighthouse in 1990, the automation process of Maine's guiding beacons was complete.
With the passing of this era, it would seem that time and technology had changed much of what many people held near and dear in regards to our lighthouse heritage. Over time, tending the lights had transitioned from onsite lighthouse keepers to offsite keepers of the lights.
Though far reduced, the human element was – and still is, required for the United States Coast Guard to keep the lights and fog horns watching properly along the Maine coast and throughout the nation.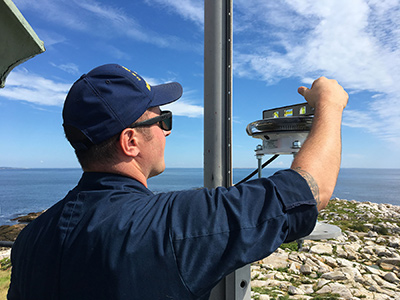 Automatic equipment – even the most cutting edge, cannot extinguish the U.S. Coast Guard's keen sense of commitment to this time-honored duty. To see Coast Guard lighthouse technicians carrying out lighthouse work today with such a high level of skill and care not only makes the heart swell with pride, but it also honors the longstanding traditions of America's lightkeeping legacy.
Instead of standing watch, trimming the wicks, winding clockworks and firing up the machinery for fog horns like bygone keepers did, USCG lighthouse technicians instead replenish lamps in automatic lampchangers, keep fog horns ready for service at a moment's notice, tend to an array of electronic equipment and make sure batteries and solar panels are functioning properly.
The U.S. Coast Guard doesn't miss a beat with all of this work. Whether by land, sea or air, Coastguardsmen faithfully service Maine's lighthouses – many on islands or at wave-swept locations, on a regular schedule.
Today, the Coast Guard still "keeps a good light" at fifty-five (55) historic lighthouses up and down the Maine coast from Lubec to Kittery. In all, five units bear the primary responsibility for Maine's lighthouses, and include the Aids to Navigation Teams from Southwest Harbor and South Portland, as well as the cutters, SHACKLE (South Portland), TACKLE (Rockland) and BRIDLE (Southwest Harbor).
So when people visit a Maine lighthouse and see its light shining bright and its horn sounding during periods of foggy or thick weather, they can thank the United States Coast Guard – today's keepers of the lights, for their vigilance and service to this enduring tradition!