An Earnest Plea for the Fog-Bell
The following except is from the book entitled, Captain Ben's Book, by Capt. Benjamin J. Willard, which includes a mention about needing a fog bell at Portland Breakwater and the need for a light and fog bell at Spring Point Ledge.
The 1895 volume contained a record of the things which happened to the legendary Capt. Benjamin J. Willard, a Pilot and Stevedore, during some sixty years on sea and land.
"Masters and pilots need a good bell on the Breakwater, but some of our light-house inspectors are opposed to it," said Captain Willard. "A strong petition has been offered and ignored. It should be heeded. Portland Harbor will never be as it should be until a decent bell that can be heard is put up and a light at Spring Point.
"I may not need it, but those who follow me will. No less than two and a half million people pass in and out of this harbor yearly, and a great amount of property is carried to and fro. Big ocean carriers in winter, passenger and pleasure boats in summer, costly yachts from New York and all along the coast, ply our waters. It is criminal to put all this to risk.
"I am surprised that any government officer sent to observe this coast and its harbors should think a proper bell dangerous or misleading, and as long as live shall never cease to work for it. When I am gone I hope my friends will keep the good work up until our masters and pilots have what they and the public need for the protection of life and property.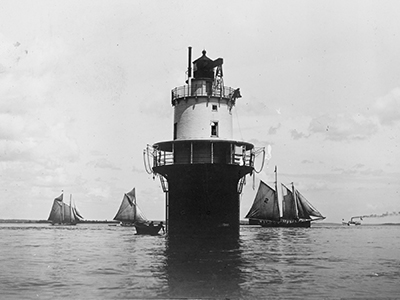 Captain Willard concluded, saying, "…When a light and bell have been placed on Spring Point Ledge they will rejoice still more, and feel safe in entering our harbor in any weather, no matter how thick."
As it turns out, Captain Willard did live long enough to see both of his goals become reality. Two years after his memoirs were published in 1895, the Lighthouse Board moved a 400-lb buoy from a nearby buoy to the Portland Breakwater Lighthouse in 1897. This bell at Portland Breakwater Lighthouse was replaced by a 1000-lb bell in 1903.
Also in 1897, the Lighthouse Board established a caisson lighthouse and fog bell at Spring Point Ledge. This no doubt must have pleased Captain Willard and his friends very much and demonstrated the importance of advocating for improvements related to aids to navigation. Captain Willard would pass away in 1899.