Alone on Nubble Light for Christmas until Flying Santa Showed Up
Christmastime is always more special when the holiday is shared with family and friends. Though a delicious meal and gifts add nicely to any Yuletide celebration, it is the warm company of those we hold dear that fills our hearts and creates the lasting memories we cherish for a lifetime.
For lighthouse keeper Eugene Coleman and his wife Amanda, it was this expectation of fine company that enveloped their plans for a wonderful Christmas at Cape Neddick "Nubble" Light in 1933. The Colemans were a social couple and enjoyed hosting company at the light station.
Just barely offshore, Nubble Light in York is a picturesque station embraced by an aura of grandeur. The island sentinel holds aloft its guiding red beam eighty-eight feet above the water, which shines from a fourth order Fresnel lens – the beacon's crown jewel.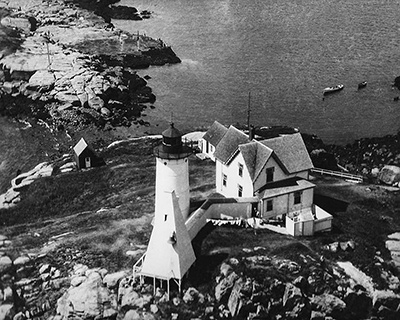 The keeper would transport guests from the mainland to the island in his skiff – a distance of about 250-feet, if the weather and seas would permit. But from the sounds of a January 6, 1934 letter penned by the keeper, the opportunity for company was lost. For an unstated reason, the Colemans would spend Christmas alone.
This outcome no doubt was very disappointing to the keeper and his wife, but at least they had each other – and their pet cat, Sambo Tonkus, while participating in the Christmas traditions of opening cards and gifts inside the cozy keeper's house.
Alone on an island for Christmas – that is until out of the blue, came a roaring sound filling the cold air. In an unexpected surprise, Captain Bill Wincapaw – Flying Santa, was buzzing the island before dropping a gift bundle to the isolated couple.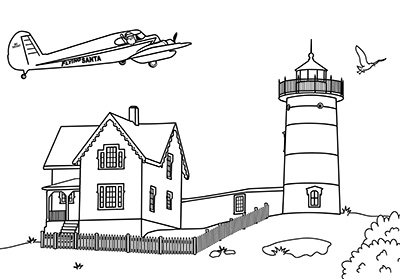 Lighthouse families were always delighted to see Flying Santa but this particular flyover was extra special since it was a complete surprise – it being the first time Nubble Light was graced by the presence of the Jolly Fella in his plane.
On Christmas Day 1933, Flying Santa delivered more than a gift bundle to a lighthouse – he also brought much Christmas cheer to keeper Eugene and Amanda Coleman during a moment when it was needed most!
Let Keeper Coleman fill in the gaps of this great story in his own words from an excerpted letter that he penned, which appeared in the Rockland Courier-Gazette on January 6, 1934: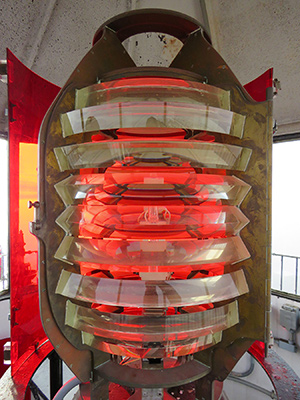 "Christmas was a busy and eventful day at the Nubble, despite the disappointment of the Keeper and wife when they found they would be alone after all. They will be eating turkey till Easter now.
"First, the presents were opened and everyone had been very kind to them, and they were delighted with the things Santa brought. After this the 67 Christmas cards were opened and read, and while the Missus was engaged in counting them and putting them in a box, a terrible noise scared us and a plane went over the house from East to West instead of from North to South through the Gap as they usually do, and we both jumped up and said at the same time – 'Captain Wincapaw.'
"We went to the front door and waved to those in the plane and looked in the yard, and sure enough, there was a bundle as we had heard he always left – this was his first visit to us. He had never come this far before – he must have known we were alone and needed cheering.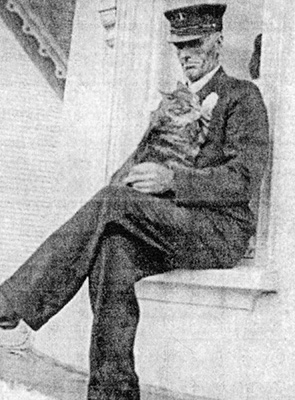 "I went out the back door to retrieve the bundle and when I opened the door saw Sambo Tonkus (the station cat) flattened out on the ground. The sound of the plane so close had been too much for him and he was scared and glad to get in the house.
"When I opened the bundle found we had seven daily papers, Sunday American, an Old Farmers Almanac for 1934 and a half-pound of La Touraine coffee. We were some surprised and pleased. I was wondering just that morning where I was going to get one of those Almanacs as they do not carry them here and hitherto Mrs. McIntire had always brought me one for Christmas.
"La Touraine is our favorite coffee and we have used it for the past 10 years. We wish to thank the Captain and his companion for their kindness to us and to wish them all a very happy and prosperous New Year. We will think of them often this winter.
"They had evidently come here from Boon Island and that explains why they came from a direction contrary to custom. We have planes go by so low and near that I have looked at the pilots from my pantry window but they have been over the water, not over the house.